Annonce #PE0170682A211620
74200 Thonon-Les-Bains CDI Dès que possible Temps plein Ouvert aux personnes en situation de handicap
Offre d'emploi

de Software engineer (H/F) à Thonon-Les-Bains en CDI
L'entreprise
Aujourd'hui, 5e acteur sur le marché du travail et de l'emploi en France, Actual group est un groupe français, à la vision résolument humaniste, qui milite chaque jour pour faciliter le droit au travail pour tous. Organisé autour de 4 métiers, travail intérimaire, recrutement, accompagnement et formation, le groupe est n°1 de l'intérim d'insertion en France. Dirigé par Samuel Tual, entrepreneur engagé, Actual group a développé une véritable expertise dans l'accompagnement des personnes vers l'emploi sur l'ensemble du territoire, à travers des solutions pour l'emploi et le développement des compétences. Le groupe propose également une offre de solutions RH complète pour accompagner les entreprises et créer ou trouver les compétences dont elles ont besoin. Grâce à ses 3 550 collaborateurs et plus de 600 agences réparties sur le territoire, Actual group accompagne aujourd'hui 31 000 entreprises et 165 000 candidats à l'emploi, pour un chiffre d'affaires de 1,6 Milliard en 2021/2022. Son ambition, et celle de ses marques Actual, Leader, Ergalis, Actual Intérim Insertion (A2i), Best intérim, Isa Intérim, Talentpeople, Up Skills, CCLD, Envergure, ESUP, Bizness, Holberton, est de construire ensemble le travail des femmes et hommes, partout en France.
Holberton is a revolutionary new type of software engineering school that has no teachers, no lectures, and our hands-on curriculum is developed by Silicon Valley experts. A passion drives us to enable people all over the world from all walks of life to learn how to code. This is an onsite position in one of our newest campuses in the network, Holberton Thonon-les-Bains. Holberton provides its education via 24 campuses across 5 continents. Our secret sauce is our software-led education that provides high-quality, scalable developer training. Checker, an internal tool that automates the correction of students' projects. The checker is analyzing over 10M+ lines of code per week. As part of the education team, you will contribute to animating and building an education training elite software engineers working at companies like Tesla, Apple, Rappi, LinkedIn, and Google. Note that candidates must be legally authorized to work in France when submitting their application since we currently cannot sponsor working visas.
Le poste
- Provide technical mentorship about web technologies to students - Communicate over different mediums and formats: chat, audio, video, one-to-one and one to many
- Research and understand web trends
- Design and update the curriculum projects to get students to learn in-demand web skills
This position is double-headed. You will have to be both a technical mentor and a trend seeker. This is a great opportunity for someone who is an Engineering Manager or wants to become one, it involves providing technical support while ensuring that the organization is teaching the latest tech trends. As a technical mentor, you will answer students' questions about the web stack part of our curriculum. As in the corporate world, your role will not be to give the answer but to provide guidance so that the students can find the answer and do the work by themselves. The communication will happen over chat, audio, and video, one-to-one or one to many including live-streamed coding sessions. You will also be in charge of reviewing some of the students' projects. As a trend seeker, you must understand the tech industry trends and drive our curriculum innovation. The position requires you to discover and understand new web technologies. In parallel, you will design and create technical projects to teach students the latest, in-demand web skills. You must be fluent in English.



Le profil recherché
- First successful professional experience in web development - Mastery of HTML, CSS, Python, Javascript, and databases - Knowledge in C appreciated - Great oral and written communication skills in English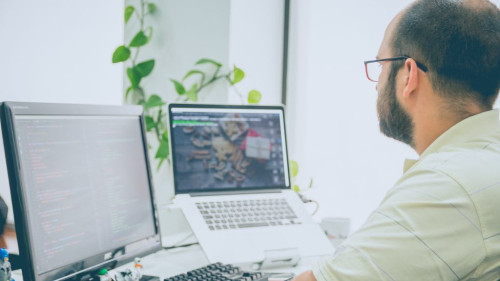 Technicien méthodes indus (H/F)
Actual recrute Nous sommes à la recherche d'un(e) technicien(ne) méthodes industrielles (h/f) pour rejoindre notre client basé à Lamballe. Au sein de notre équipe technique composée d'environ 10 personnes, vous aurez des missions variées et s...
Postée il y a 2 semaines Voir l'offre